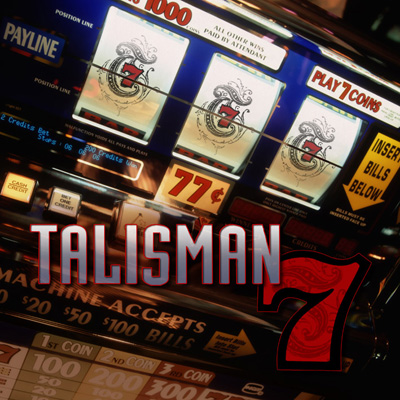 Primeiro: o que falar mais de Jeff Scott Soto (JSS, para os íntimos)? Segundo: o que falar de Marcel Jacob, um dos meus baixistas preferidos (oi, eu sou baixista)? Terceiro e último, pra não perder o clichê: E o Talisman?! Assim... de cara, quando se ouve a música "Falling", logo se nota uma banda renovada, calcada no que a modernidade tem a oferecer em termos de sonoridade roquístisca. Detalhe para os ecos de Soto.
Mas... (Eu sempre gostei do "mas" no rock), mas, graças a Santa Claus, eles continuaram em suas vertentes sempre brincando com o funk. Já na segunda música, "Nowhere fast", que tem um refrão marcante, o ouvinte percebe a influência nítida da década da Disco Music — não é à toa que JSS tem uma banda que só toca sucessos dessa época, a Boogie Knights.
A terceira preciosidade deste play fala de amor. O refrão é acompanhado de corais bem encaixados, com o baixo de Jacob lá em cima. "Você é minha rima e minha razão", diz o refrão. Não é pra qualquer um que se fala isso, diga-se de passagem. "Rhyme or Reason" é uma das melhores, sem pestanejar.
O engraçado nesse CD é que as letras alternam declarações de amor até não-quero-mais-saber-de-você. "End of the line" é umas dessas tiradas de tempo. Mas que não sai da linha. Atente para o refrão novamente e, inclusive, à ótima bridge. Ah, sim, e para a bela cozinha da música. A batera de Jaime Borger está impecável. A próxima é "The 1 I'm living 4", outra boa baladinha, com os notáveis efeitos da guitarra do banger Fredrik Åkesson.
Pra não ficar desgastante e meus adjetivos pra esse play acabarem (o que é bem difícil), vou ser preciso. Cada refrão tem um quê de entrosamento; cada riff; cada groove. "Out of my way" foi criado pra nos mostrar isso. De quebra, "Forevermore" vem em sequência. Mais uma linda baladinha de final de festa.
Daí, pra levantar todo mundo: "Succumb 2 my desire". Levada funky! Mas algo me leva a crer que eles estavam apaixonados. "Shed a tear goodbye" é uma das canções mais singelas que eu ouvi ultimamente. Vale a pena comprar o CD só por ela.
A penúltima música é mais uma experiência do que outra coisa. "Troubled water" é um reggae undívago disfarçado de rock. Pra finalizar, claro, mais uma baladinha inocente. "Back 2 the feeling" expõe uma banda afiada em todos os sentidos e em sua melhor época.
O baixista Marcel Jacob, que também estava atuando no Last Autumn's Dream, faleceu dia 21 de julho do 2009; dia do aniversário do meu pai. Bem, voltando... essa perda para o roquenrou é incomensurável. Contudo, o que se pode sentir é a intensidade de cada track desse álbum. Uma ótima pedida para o começo de final de semana!
1. Falling
2. Nowhere fast
3. Rhyme or Reason
4. End of the line
5. The 1 I'm living 4
6. Out of my way
7. Forevermore
8. Succumb 2 my desire
9. Shed a tear goodbye
10. Troubled water
11. Back 2 the feeling
Jeff Scott Soto - vocais, backing vocals
Fredrik Åkesson - guitarras, backing vocals
Marcel Jacob - baixo e "firulas"
Jaime Borger - bateria
(link nos comentários - link on the comments)
Por
Breno Airan Meiden